Design Services
To begin the design realization process, download and complete our design realization document. It will prompt you about any design ideas you have, including colors, themes, fonts, and logos. Try to be as specific as you can, as the more detail you can offer, the quicker our design team can get to work creating your design exactly how you imagine it.
These expert tips will ensure that we create the best design possible:
- Include a sketch of the design, even just on a scrap of paper
- Try to minimize the number of people involved in the design process, and know that you're never going to please everyone! Pick one or two captains to be involved in the process and trust that we'll keep you on the right track. There is nothing more difficult than trying to run a design through a large committee or full team.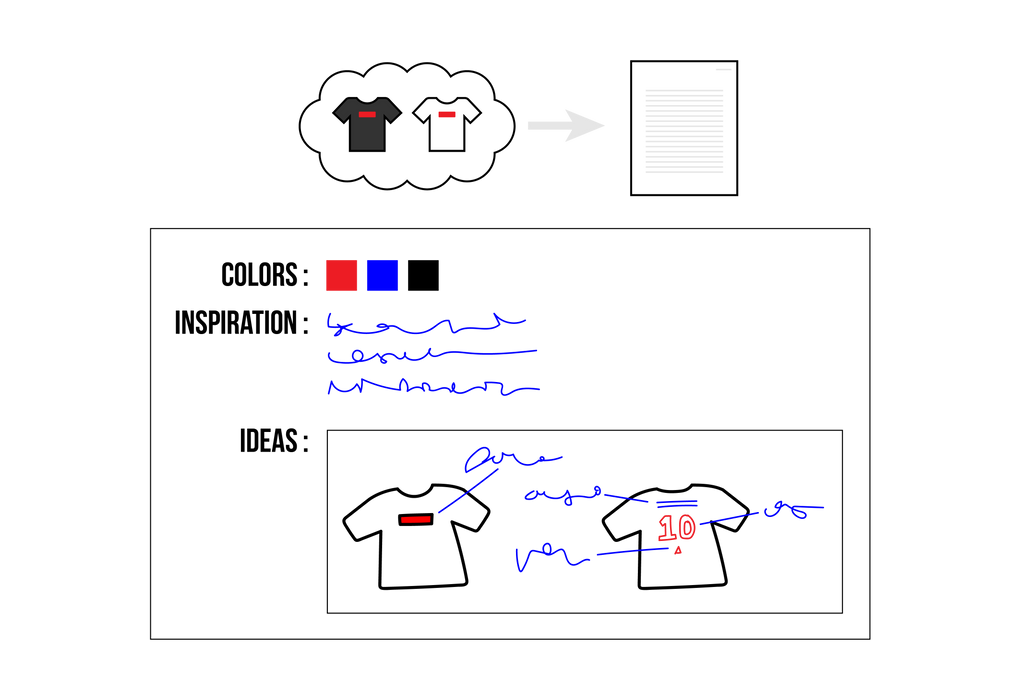 Design Templates
Confident working in Adobe Illustrator? Try downloading our templates and drafting your own design. The file is set up to be simple to use, but if you have any questions, feel free to reach out.
Before production begins, one of our expert reps will review the design with you to ensure that everything looks good.
Here are some tips:
- Make use of our blue guidelines, which show you our suggested placements for names, numbers, and logos.
- Be sure to include any fonts that you have used when sending us the files. You can find a host of font packages online for free!
Color Charts
Due to the difference between computer monitor generated colors and the printed colors on fabric, we have color charts available that we can send along with any samples. We do this to ensure that you can get the colors exactly right.
Here are some tips:
- When choosing colors, don't just look at the color chart and pick a color. Choose a color from a real shirt or garment that you already like the color of an match the color of that garment to the color chart. This will avoid the situation where a color initially looks good in a little box on the color chart, but once printed on an entire garment isn't what was expected. It is often that colors once printed on the entire shirt will appear brighter, hence this suggestion of matching.
- If trying to find a good palette for your jerseys, try using an app like coolors.co to test out different combinations. Still, be sure to try and find matches from our color chart if you hard set on how you want the color to come out.