Design Spotlight: DC Breeze AAPI Heritage Jersey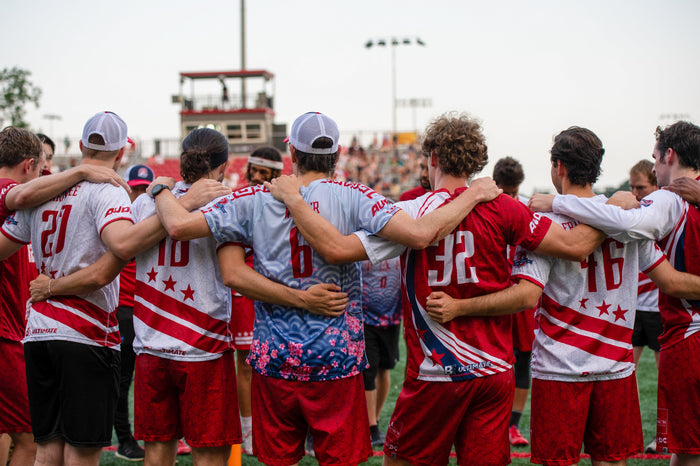 Welcome to BE Ultimate's new segment, Design Spotlight, where we showcase the incredible creativity of our customers and the collaborative process that makes it all happen. It's time to get inspired, get creative, and give credit where credit is due!
In this edition of Design Spotlight, we're shining the spotlight on the unique DC Breeze AAPI (Asian American Pacific Islander) Heritage Jersey created by Mitchell Yam in partnership with BE Ultimate. 
Stealing the Show
The Creative Mind
"I was inspired by the Cannons' African American heritage jersey and wanted to make a jersey that honored DC's rich AAPI culture." Says Mitchell
This Jersey was designed by Mitchell Yam, who has been a member of the DC Breeze organization for multiple seasons.  It's rare to come across a design that's 100% ready to go, but Mitchell designed it entirely himself making it truly unique. 
"I knew that cherry blossoms were a must-have, and I went from there adding design elements (Chinese characters, shoulder pattern, etc.) until I felt like I had created a piece of art that properly represented DC's AAPI community." Mitchell explains.
Behind the Scenes
Not only is this design eye-catching, but it also carries a meaningful message. The AAPI Heritage Jersey was created to celebrate AAPI month and support the 1882 Foundation, a grassroots effort dedicated to addressing the historical discrimination faced by persons of Chinese descent due to the Chinese Exclusion Laws. Bringing light to this cause through design shows the power a statement jersey like this can hold.
"The general reception and feedback about the jerseys has been surreal to me, it's absolutely amazing to see so many people wearing something I created and supporting a good cause." Says Mitchell
Mitchell also shares that "$5 from every jersey purchase went to the 1882 Foundation, a local Chinese-American history nonprofit dedicated to preserving AAPI stories in the DC area"

The Cool Factor
Let's breakdown what takes this design to the next level:
1. The inventive use of the team's primary colors to complement the playing kits.
2. Both playing kits and the AAPI Alt Jersey feature stunning full background patterns.
3. Even as a standalone design, you can spot the DC Breeze's spirit from a mile away.


Unleash your Creativity with BE
BE Ultimate's Design Experts are ready to collaborate and get creative with you to bring your ideas to life in just a few easy steps:
1. Fill out the DRD with your inspiration: colors, themes, fonts, & logos the more the better!
2. We connect via call or email to collaborate and align on the vision!
3. Our design team creates a jersey mockup that we edit until perfection is created!
 BE's Design Tip of the Week: Get Inspired by the Pros
Take inspiration from other professional sports! While we don't copy things directly, browsing designs from major sports can ignite the spark of creativity for your own unique designs.
Who's Next?
Stay tuned for more amazing designs in future editions of Design Spotlight. Who knows? Your team's masterpiece could be the next one to steal the show!